One of the greatest technological advancements that have brought a huge change in the engineering and construction domain is CAD. Ever since its inception, it has effectively replaced manual drafting and has helped a variety of construction managers, architects, and engineers with their developmental activities. Through CAD explanations, designers can assure more accuracy with the designs and focus on improving their quality. Besides, they do not have to carry the computer-aided drawing and designs everywhere they go and can access directly on their worksite by storing it in the cloud. Keep reading the blog post if you wish to learn more about the CAD capabilities.
What is CAD?
CAD is the acronym of Computer-Aided Design. Here, the computer-aided design is created using high-quality computer graphics with the help of specialized software. It is mainly used by designers to improve their productivity for the development of complex engineering designs, thereby facilitates proper documentation of the designing process. Apart from this, it can also help with optimizing the design for improving their quality and creating a manufacturing database. Any engineering process or product can be depicted in graphical form with complete details using lines, curves, layers, and 3D shapes.
Since last 2000 years, engineering drawings have been common but their use was standardized in 18th century. Gaspard Monge, a French mathematician, formalized the use of orthographic projections. Since then, the drawings started becoming more sophisticated and popular gradually as complex designs can be showcased with ease comprehensively through visual representations.
Initially, all engineering related drawings were meticulously prepared by hand. But, need for expert intervention of software was felt for long as drawings and designs started growing in complexity. Further, many engineering problems required analytical and problem-solving approach to accurately represent the solution to problem. This relationship between data and visualization i.e. designing as per specifications is projected through drafting or technical drawing of engineering objects.
Technical drawings need to be precise which can flawlessly communicate all object related information in easy to understand manner. CAD has a major role to play in designing, developing an optimizing product's technical drawing. Primarily, CAD design process finds extensive use in building or fine-tuning the tools and devices used in manufacturing and construction areas. With CAD programs, design engineers can develop drawings on the digital canvas over computer screens, get the same printed and save them for editing in future.
During the initial days of Computer-Aided Design and drafting, engineers often preferred the handmade process as machines on which software would run were highly expensive. However, with the advent of minicomputer and microprocessor coupled with phenomenal growth in computers' processing and storage capabilities, CAD became a way of professional life for design engineers. Dimension and physical properties of engineering components could now be accurately represented with CAD software.
How CAD is used?
The various uses of computer aided design are discuss below:
Designing and laying out preliminary engineering and other drawings
Carrying out precise calculations based on scaled down versions of engineering drawings
Developing 3D models of drawings for ease of visualization
Updating and releasing various versions of drawings
Interfacing with other platforms for analysis as well as use by other end users
Detailed information about any process or component can be accurately defined using different types of computer-aided designs. The same can also be outputted in formats which are easy to interpret and implement by trained professionals in different scenarios. Outputs can be in 2D or 3D formats and in plain or automated forms.
Advantages of using CAD
CAD offers numerous benefits to draftsman or design engineers, and outputs can be leveraged in various industry verticals. Some of the major advantages of computer-aided design include:
CAD offers numerous benefits to draftsman or design engineers and outputs can be leveraged in various industry verticals. Some of the major advantages include:
Object/ component can be viewed/ visualized from different angles, even inside out
Editing can be done significantly faster compared to manual mode
Drawings/ designs/ blueprints can be viewed in 2D or 3D forms
Conceptual designs, prototypes, and simulations can be produced easily
Product schemas and designs can be developed as per specifications to facilitate manufacturing
Precise simulation can be achieved which slashes designing time wasted in building and testing
Need for physical prototypes eliminated
Product development can be streamlined through integration with CAM or computer aided manufacturing
Porting of design and drawing files becomes easier as CAD is industry standard
Animated movies as well as other applications also use CAD models
In order to print out drawings and designs prepared in CAD programs, special printer called plotter is needed. The graphics in CAD programs can be raster or vector based.
CAD has gradually made steady inroads in almost all industry verticals. Computer-aided design can be used in various business sectors like aeronautical, manufacturing, electronics, construction, etc. For the manufacturing industry, CAD is an inevitable tool for visualization, which promotes creativity and boosts productivity. More and more professionals are training themselves in prominent CAD software to gain hands-on exposure to designing.
Types of CAD Software
As the benefits of CAD design become more pronounced, many software with cutting-edge features is surfacing to facilitate the seamless creation of designs. Since the 1960s, different types of CAD systems are used in a widespread manner for engineering and construction drawing or blueprint development. Of late, CAD has also found useful applications in other verticals as well. Have a look at other computer-aided articles at the end of this blog post for more information.
2D CAD programs

In the late 1960s, when CAD software was taking shape, 2D was the mainstay. Initially, renowned aeronautical, automobile and top engineering firms were developing their proprietary tools for automating drafting tasks of repetitive nature.

2D CAD is essentially linear in nature and is composed of geometrical shapes like squares, lines, circles etc. Gradually by 1970s, standard CAD software was developed which could be universally used. AutoDesk, the renowned software provider, was one of earlier companies that had pioneered the development of CAD software and is still commanding the patronage of users.

3D CAD programs

With time, 2D CAD programs gradually paved way for 3D CAD as digital technologies became more mature. The popularity of 3D CAD software can also be attributed to phenomenal increase in computer's processing power, improvement in graphic display capabilities using different 3D display methods in computer graphics and plummeting of prices of CAD computing devices.

With 3D CAD, photorealistic 3D objects can be developed and then rendered. The models are 3D in nature which can be visualized from X, Y, and Z axes and can be rotated in 360 degrees. The views of 3D models can be displayed in isometric or perspective modes which can be visualized from all possible angles.

During 1980s, 3D CAD tools had first surfaced through a strategic alliance between Dassults and IBM. The heightened visual prowess quickly made 3D CAD immensely popular. Since then, 3D CAD software frameworks have experienced a metamorphosis of sorts with introduction of many advanced tools. These tools have brought down the turnaround time for product designing significantly. The concept of Product Lifecycle Management (PLM) has also come into force.

Major 3D CAD software includes Unigraphics NX, AutoCad 3D, Civil 3D, SolidWorks and SolidEdge. The software comes loaded with numerous tools and professional training is required to be aware of their functionalities.

CAD software can also be classified based on various operating parameters. Understanding of these parameters would help you make optimum use of the CAD functionalities. Training would offer hands-on insights into how to leverage the advanced tools.

Single file mode systems

In this CAD software type, a single user is only allowed access to a single file at any given time.

Referenced filemode systems

This CAD software type permits users to work on custom created files of their own along with files created by other users, in the background, as attachment. The productivity of users increases as they can work in the background on other files.

Collaborative mode systems

The referenced file mode system's functionality is enhanced with collaborative mode CAD system. A group of users can collaborate on a project and can use the data created by each other. The changes made to the data by other users are updated in real time. AutoCAD is the stellar software which has set new benchmarks in all modes of CAD operation.

Wire frame model systems

The CAD system is capable of creating models with arcs and lines that resemble skeletons. The completed model seems to be made up of wires which make it transparent causing the background to be visible. The wireframe models are rarely used and not as popular as others.

Surface models

Wireframes are made by joining lines whereas surface models are made by combining 3D surfaces. The background is not visible through the model which enhances its realistic quotient.

Solid models

Solid models are most commonly used in CAD software as they are highly useful. They are almost like surface models except the fact that they possess other attributes such as density, weight and volume. This makes them closer to physical objects. Solid models are deployed as prototypes for the purpose of analyzing engineering components.

Increasing number of companies is resorting to computer-aided designing, engineering and manufacturing because accuracy and efficacy of product designing are assured. The lead time to market for new products is also reduced effectively. This has triggered a phenomenal growth in the demand of CAD software. The major companies that are offering state of the art CAD software include AutoDesk, Siemens, Dassault Systems etc.
List of CAD software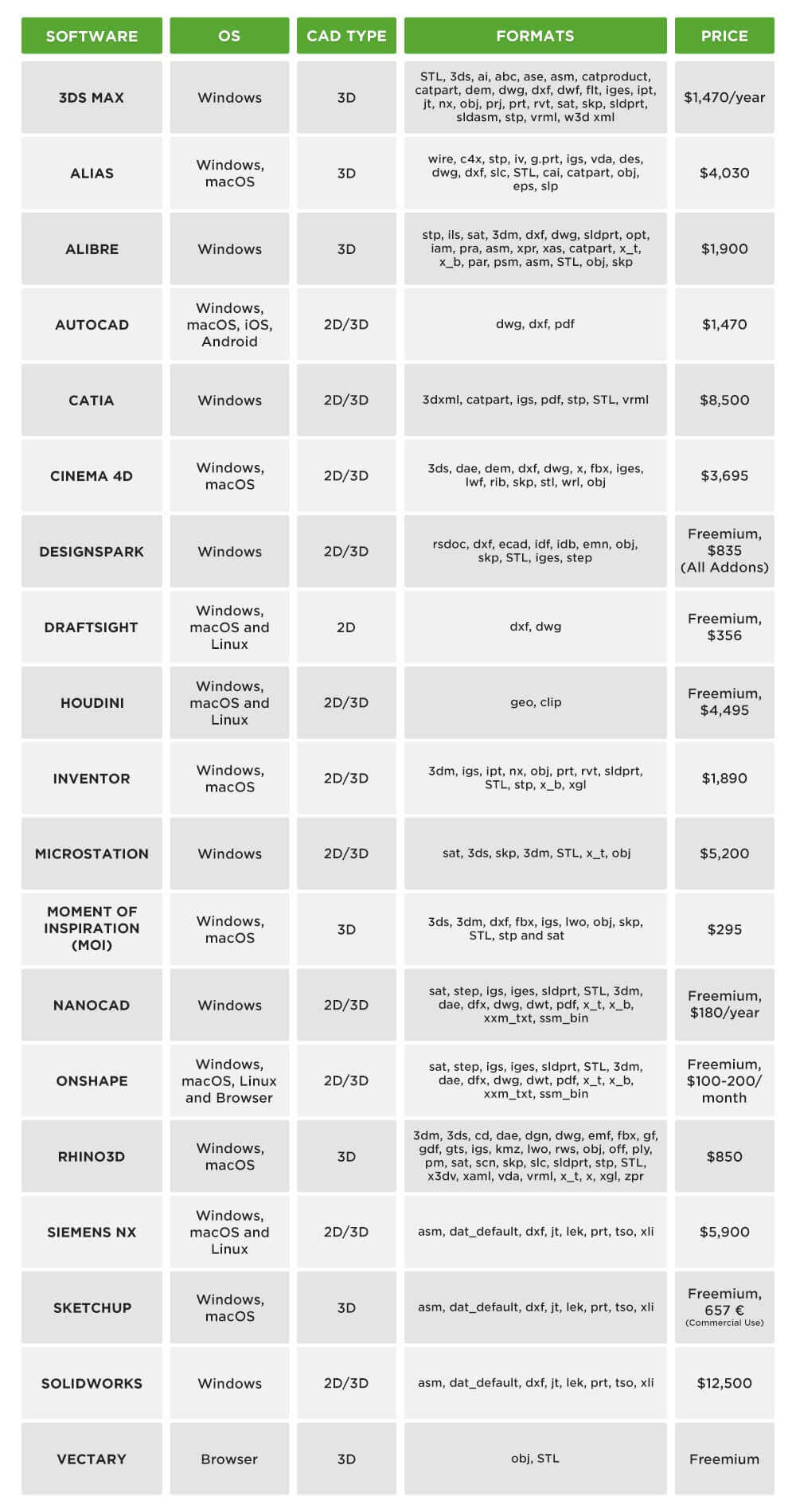 Uses of Computer-Aided Design in various industries
All designing and prototype building exercises were done manually before the conceptualization of Computer-Aided Design programs. This rendered the development process lengthy, time intensive and expensive. The trial and error methods required significant investment. The traditional canvas on which drawings were made has now been completely substituted with digitized CAD programs. The creation and editing process has now become simpler.
CAD programs are commonly used in industries that are linked to engineering processes directly or indirectly. Such industries can be manufacturing and product/ component designing related. But any industry wherein the outcome is a tangible product or component also uses CAD for designing processes. Specific industry or generic design oriented unit uses computer-aided design software in some way or other.
Some of the major industries that use this software prominently include:
Aeronautical or aerospace industry
CAD software has an important role in the aeronautical or aerospace industry as it can help in a lot of process such as manufacturing, researching, designing, operating and maintaining the aircraft/spacecraft models. It can help to manufacture various high tech space vehicles, missiles, airplanes, satellites, etc. Prior to manufacturing, each detail has to be meticulously planned for designing. Therefore, during the initial stage of designing, you can determine the flaws to make necessary changes for eliminating it.
Architecture Industry
In the architecture industry, various imposing and expensive projects like buildings, bridges, etc. can be constructed. Each aspect has to be carefully planned else the lives of many would be at stake. With the help of 2D CAD software, we can design the blueprints and floor plans while for building house schemas and structural prototypes, you can use a 3D CAD program. You can plan the layout and design the architecture modeling for any kind of projects including residential, industrial, commercial, and other construction projects. You can also determine all the other relevant specifications such as volumes, weights and other dimensions which can be planned before the actual construction starts.
Automotive Industry
The CAD program is used for designing upholstery, engines, tires, circuit panels, etc. for the automotive industry. With its aid, you can also design the prototypes of different body styles, newer parts, and auto components for the vehicles. Many industry participants make use of this software to improve the complete CAD product design of the automobiles by adding innovative features and hence, maximizing the end user experience.
Cartography Industry
Maps are no longer charted by hands. Therefore, contemporary cartography uses advanced computer-aided programs for creating maps. While charting the map, you can easily include several features like climate, road, topography, etc.
Fashion Industry
Fashion designers conceptualize the design of their original works on paper. The creative ideas are then materialized through a fashion specific computer-aided design program. Clothing manufacturers use CAD in determining the most suitable fabric cuts. The pattern scale for various fabric sizes is also adjusted using this software. Through virtual 3D models, you can demonstrate the slinky fit of clothing and chart the movement of the person wearing the cloth. Designers may also make suitable changes to the cloth design accordingly.
Interior Design Industry
For interior designing, CAD programs allow visualizations of interior designers to be materialized. The comprehensive designs can be digitally produced and presented before the clients in the best possible manner. Each aspect of the design such as the paint color or proposed look of the project can be planned out and exhibited to others upon completion.
Landscaping
CAD tools are commonly used by landscapers to conceptualize the breathtaking outdoors. Strategic placement of different landscaping components can also be determined such as trees, gazebos, trellis, sculptures, fences, gardens, patios, etc.
Other industries use
CAD has numerous uses for various other industries such as consumer electronics, furniture, circuit boards, jewelry, theater and movie sets, product packaging, etc.
Conclusion
Computer-aided design software would continue to evolve in complexity with the inclusion of more cutting-edge tools. These designing programs are keeping pace with contemporary demands of engineering and allied industry verticals. More and more technological and digital interventions are making this area vibrant. If you want to develop accurate and impeccable drawings, prototypes, 2D or 3D models, etc. using CAD, ThePro3DStudio's proficient and experienced professionals can help you out. As a reputed CAD Design Company, ThePro3DStudio is a dominant mainstream player in the computer-aided designing domain.
Related Blog Posts
Contact Us